HOW TO FIND SUITABLE SIZE SHOES FOR YOURSELF?
THIS YOU WILL NEED: 1st sheet of paper 2. a pencil, pen or marker 3. adhesive tape 4. a ruler or other measuring device
1. Stick a sheet of paper to the floor. You will have to draw your foot, so make sure the card is on a hard surface, not on a soft surface, like a carpet
2. Draw your foot on the sheet to find your right size.
Draw your foot around without taking the pencil. You can wear socks, but do not dress shoes.
3. Measure the length of your foot.
Use a ruler to measure the length of the foot drawn on a piece of paper from the longest finger (most often a large toe, but also depends on the foot) to the end of the heel. Save your results.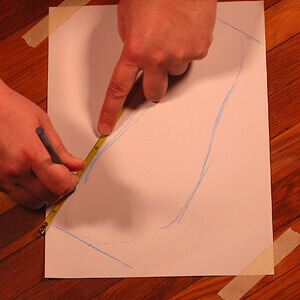 After measuring, look at the table and choose your right size: